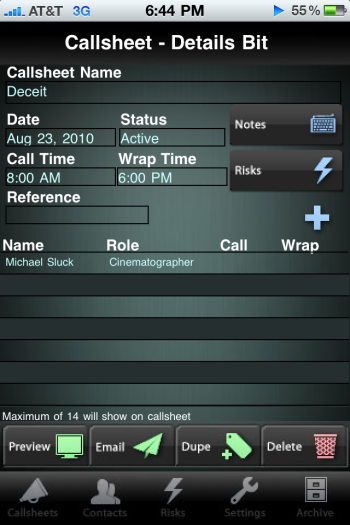 How many times have you had the dilemma of needing to create a call sheet on the go? Now, that problem has been solved with an app from iProdya, called iProdyaCallsheet. First off, the app costs $2.99 in the app store and is one of only two call sheet apps currently in App Store. The other is Pocket Call Sheet, and costs $6.99.
iProdyaCallsheet is organized by five buttons along the bottom of the app: Call Sheets, Contacts, Risks, Settings and Archive. The interface is clean, although the first time I opened the app, a few of the data fields confused me.  With time, it came to me.
The Call Sheets section contains all current sheets you are working on. The Contacts section, however, is problematic since it doesn't access the iPhone's address book.  This means you have to enter every person's data manually — a big problem when you have a larger crew. A nice feature in the 1.1 release allows you to add shoot risks, and solutions.  I have yet to check, but I believe you can share these risks in the app with other call sheets you create for multi-use. I will check this out and come back with a definitive answer. The Settings section contains the user contact information, call time/wrap time and a production logo.
Now lets get into the gravy of this app.  In the call sheet itself, you can add notes in the following categories: location, general, technical and health/safety, though I don't see where you enter health information in the notes tab.  You can see a preview of the call sheet, and email it to your crew and cast, though the address book issue I mentioned earlier occurs again as you have to manually enter every name. I will mention that you can export the callsheet as a PDF or CSV. These files types can be read on iOS devices, so you can send out the next day's call sheet from set if your production has any late changes.
All in all, for a 1.1 release it shows potential, though I recommend waiting to see what the developer does to improve on the address book issue, and what competition arrives in the app store.
This app has been removed from the App Store