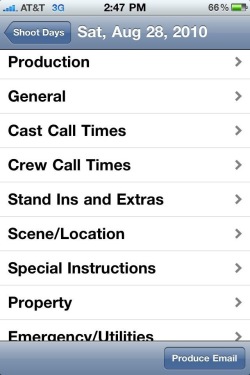 Last week, I reviewed iProdyaCallSheet. Now, due to reader requests, I'm taking a look at a similar app called Pocket Call Sheet ($6.99) from Snake Byte Studio.
When you first open Pocket Call Sheet, you are presented with a list of all your previously generated call sheets, along with the ability to create a new sheet for other productions. When creating a new call sheet, you enter your specific information into nine separate sections. The first is called Production, and it includes the production's title, company, studio, 1st day of shooting, and the current day of shooting (which will be the sheet you are creating first). You are then asked to enter the number of shoot days, Producers, Directors, Writers, Assistant Director, UPM, and the Production Assistant.
Now is a good time to mention that unlike iProdya Call Sheet, Pocket Call Sheet allows you to pull in people directly from your device's address book. If your contacts have multiple phone numbers or email addresses, they will all be added to the call sheet separated by commas. You can choose to delete unnecessary contact info from the sheet (this has no effect on the information stored in your address book). Unfortunately, there is no option to add someone who isn't in your address book. So, if you want to add someone new, you'll have to add them to your address book first, and then import them into Pocket Call Sheet.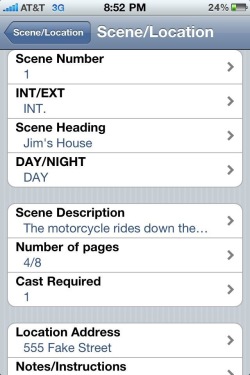 Next, you are taken to the General section, where you can enter the anticipated weather conditions (via a drop-down menu that includes Sunny, Cloudy, Raining, Thunder Storms, Snowing, Drizzle, Windy, and none). There's no option for entering a custom weather entry, but you can choose multiple options from the pull-down for days with changing weather. This section also allows you to enter sunrise and sunset times.
In the Cast Call Time section, you can choose individual call times per person. Each entry includes the person's name, role (which you can customize), status (working, Holiday, Travel ), Call time (works like the clock set feature on the iPhone), Hair / Make up (same as previous), email address, phone, and note (text field entry). The Crew Call Time section functions similarly, however it adds different departments (Camera Dept., Grip / Electric, Art, Sound, Hair / Make up, Wardrobe, SFX, Caterer, Craft Services, Stunts and Other). You can have different call times for each department, and even different different call times for different members in the same department.
The next section is for Stand Ins, which functions similarly to the Cast Call Times section. Next is the Scene / Location section which offers more details on your shooting locations (see screenshot). The Special Instructions section allows you to enter important information for a department with a note attached. We then enter the Property section which has fields for description, scene (which automatically pulls in your previously entered data from the Scene / Location section) and quantity.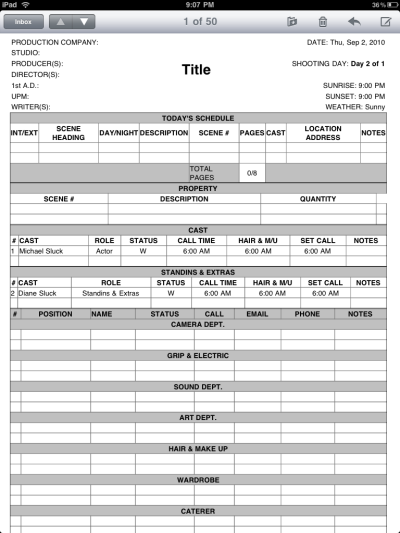 The next section is Emergency/ Utilities, in which you add companies and services that may be required in case of an unwanted situation. This information is entered manually, and not imported from an address book entry. The final section is Daily Notes, which is just what it sounds like. There's also a help feature and an about section.
Once you have all your data entered for that day of the sheet, Pocket Call Sheet can produce an email to send to everyone you've included in the various sections of the call sheet. You can also add additional recipients at this time. When you're ready to create a call sheet for your next day, Pocket Call Sheet automatically advances to the next day in your shooting schedule. All crew and cast you've entered for one day will get added automatically to any additional days you create.
Overall this app is highly recommend even with the higher price tag, that is highly functional, easy to customize / maneuver.