Apps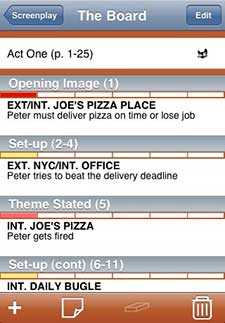 Writers who've enjoyed Save the Cat! The Last Book on Screenwriting You'll Ever Need, will likely be thrilled by the new Save The Cat! ($19.99) app for the iPhone and iPod Touch. Those of you who don't know what I'm talking about should run out, buy this book, read it, and then come back.
…we'll wait…
In his books, author Blake Snyder teaches his system for perfecting the craft of screenwriting. He introduces tools and techniques designed to focus and inspire. He begins by stressing the importance of a powerful log-line, and then guides you in picking the perfect genre. After that, he helps you build a 15 step beat sheet, and then explains how to structure everything on a board with 40 index cards.
Snyder knows structure, and it shows in his techniques. The Save the Cat! app brings those techniques to the mobile screenwriter.
Let's check it out!
Read More »